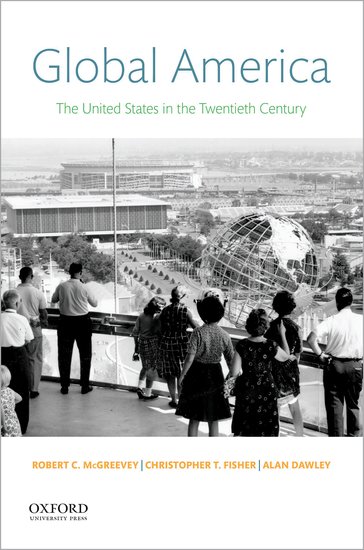 The history department is excited to announce that Global America, The United States in the Twentieth Century (Oxford, 2018) has just been published.
https://global.oup.com/academic/product/global-america-9780190279905?cc=us&lang=en&#

Global America tells the story of how Americans were swept up in the swift-moving currents of twentieth-century world history. The book grew out of the life work and scholarship of the late historian Alan Dawley, one of the early leaders of the U.S. in the World approach. Alan began working on Global America as he shifted his focus from labor history to the history of the U.S. in the world. Christopher T. Fisher, a scholar of U.S. Cold War relations, and Robert C. McGreevey, a historian of America in the Gilded Age and Progressive Era, took over the completion of the textbook after Alan's sudden passing in 2008. Global America has evolved to reflect changes in the field of U.S. social, diplomatic, political, cultural, and economic history.
Drawing on published scholarship on topics as varied as labor resistance to U.S. corporate expansion in Latin America, the role of Hollywood in the postwar reconstruction of Japan, and the links between American foreign policy and immigration, Global America highlights America's effect on the wider world and the reciprocal impact of global developments on the United States. The text pays particular attention to themes of race, class, and gender and how each has shaped—and been shaped by—U.S. engagement with the world. Global America argues that the more America sought to change the world, the more the world changed America.