Professor of History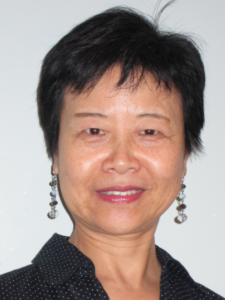 Modern East Asia, China Through the Ages, and the City in Modern China

Michigan State University (PhD, 1994)
Phone: 609-771-2207
Email: shao@tcnj.edu
Office: Social Sciences 209
Professor Qin Shao is a Shanghai native. She spent six years as a farmer in the countryside during Mao's Cultural Revolution (1966-76) and later pursued higher education in both China and the United States.
Professor Shao has offered courses on Chinese history from the Stone Age to the present, women and the family in Chinese society, the city in modern China, American popular culture in Asia, modern Japan, East Asia, and the capstone seminar. She is the author of Shanghai Gone:Domicide and Defiance in a Chinese Megacity (Rowman & Littlefield, 2013), Culturing Modernity: the Nantong Model, 1890-1930 (Stanford University Press, 2004), and articles in major international scholarly outlets and mass media. She writes in both English and Chinese.
 An unconventional scholar who believes in the interconnectedness of knowledge, Professor Shao's work crosses temporal and disciplinary boundaries. She has published on ancient Chinese statecraft, China's modernization effort in the 19th century, and recently on the human dimension of rapid urbanization in post-Mao China. Her research interests include property rights, historical preservation, domicide, displacement, mental health, dignity, sustainability, and grass-roots movements. She is working on a new project about the impact of politically motivated displacement under Mao.
Selected Publications
Books:
Shanghai Gone: Domicide and Defiance in a Chinese Megacity. Rowman & Littlefield, 2013, pp. 306.
Culturing Modernity: the Nantong Model, 1890-1930. Stanford University Press, 2004, pp. 351.
Selected Articles
"American Academic Freedom and Chinese Nationalism: An H-Asia Debate." Positions, 23:1, 2015.
"Urban Violence and the Chinese State in the Post-Mao Reform." In Kosta Mathéy and Silvia Matuk (eds.), Community-Based Urban Violence Prevention (Bielefeld, Germany: Transcript Verlag, 2015), pp. 34-42.
"Building Trust and Boundaries: Fieldwork in Shanghai." Field Research Method Lab, London School of Economics and Political Science, November 2013. http://blogs.lse.ac.uk/fieldresearch/2013/11/21/building-trust-and-boundaries/
"Displacement and Change of the Meaning of Work and Life Course in Post-Mao China." Conference Volume, International Research Center on Work and Human Lifecycle in Global History, Humboldt University, Berlin, Germany, July 2013, pp. 225-252.
"Citizens versus Experts: Historic Preservation in Globalizing Shanghai." Future Anterior, Vol. 9, No. 1, 2012 (Summer), pp. 16-31.
"Waving the Red Flag: Cultural Memory and Grass-roots Protest in Housing Disputes in China." Modern Chinese Literature and Culture, Vol. 22, No 1, 2010 (Spring), pp. 197-232.
"A Community of the Dispersed: the Culture of Neighborhood Stock Markets in Contemporary Shanghai." Chinese Historical Review Vol. 14, No. 2, 2007 (Fall), pp. 212-239.
"Exhibiting the Modern: the Creation of the First Chinese Museum, 1905-1930." The China Quarterly 179, 2004 (September), pp. 82-100.
"Tempest over Teapots: the Vilification of Teahouse Culture in Early Republican China." The Journal of Asian Studies 57, 4, 1998 (November), pp. 1009-1041.
"Space, Time, and Politics in Early 20th-Century Nantong." Modern China 23, 1, 1997 (January), pp. 99-129.
Academic Honors and Scholarships (Select)
Visiting Senior Research Fellowship, The East Asian Institute, National University of Singapore, Spring 2015
Academic Excellence Award: Shanghai Gone: Domicide and Defiance in a Chinese Megacity (Rowman and Littlefield, 2013, pp326). Chinese Historians in the United States, 2013
Residential Fellowship: International Research Center on Work and Human Lifecycle in Global History, Humboldt University, Berlin, Germany, Spring 2013.
Co-PI, Title VI-B (BIE-Business and International Education) grant from the U.S. Department of Education, $163,691. Project titled: "Expanding International Business Education at TCNJ to China" 2010-2012 (with Dr. Linghui Tang).
Scholar Grant, Chiang Ching-Kuo Foundation, 2009.
Residential Fellowship, Radcliffe Institute for Advanced Study, Harvard University, 2007-08.
Residential Fellowship, Woodrow Wilson International Center for Scholars, Washington, DC, 2007-08 (declined).
Weatherhead Resident Scholar Fellowship, School of American Research, Santa Fe, New Mexico, 2007-08 (declined).
Research Fellowship, American Council of Learned Societies, 2003
Research Fellowship, National Endowment for the Humanities, 2001
Presentations (Select)
"Housing the Future." Keynote Speech, Human Cities Expo, Stanford Center at Beijing University, Beijing, May 29, 2016
"Sixty Pages and a Roast Duck: Meditation on the Remains of a Shanghai House." Workshop on Contemplating the Rise of Asian Cities, Yale University, February 1, 2016
"Urban Demolition and Mental Health in Post-Mao China." XXXIV International Congress on Law and Mental Health, Sigmund Freud University, Vienna, July 12-17, 2015.
"Shanghai Despite Itself: A Perspective from the Field." Royal Asiatic Society, Shanghai, China, April 25, 2015
"The 'Future Shock' is now: Managing Change and Manageable Change in Urban China's Physical and Social Transition." "Urbanization in China," a Panel Discussion, Azrieli School of Architecture & Urbanism, Carleton University, Ottawa, Canada, October 1, 2014.
"The Spatial and Emotional Turns: A Study of Displacement of the First Urban Baby Boomers in Mao's China." No. 212 Simian Lecture Series, East China Normal University, Shanghai, China, June 11, 2014. http://www.thepaper.cn/newsDetail_forward_1252977.
"Preservation in Asian Cities." American Institute of Architects, New York, December 3, 2013.
"Urban Planning and Development in China." Shanghai-Hamburg Forum, Hamburg University, Hamburg, Germany, October 11-12, 2013.
"The Chinese People Have Stood Up: Popular Protest in Urban China." Sigur Center for Asian Studies, George Washington University, Washington DC, September 12, 2013.
"The Violence of Urban Development in Post-Mao China." Seminar at Institut d'Asie Orientale, University of Lyon, France, June 21, 2013.
"Building Trust and Boundary: Field Research in Shanghai." Workshop on "Addressing Field Research Constraints in China," Department of Geography and Environment, the London School of Economics, London, England, June 6-7, 2013.
"Displacement and Changes in the Meaning of Work and Life Course in Post-Mao China." International Research Institute for Work and Life Course in Global History, Humboldt University, Berlin, Germany, May 28, 2013.
"Migration and Mobility in Contemporary China." Joint Guest Lecture, Institute for Chinese Studies, University of Oxford, UK, May 23, 2013.
"Domicide and Urban Development in Post-Mao China." Department of Architecture, Urbanism and Planning, Catholic University of Leuven, Belgium, May 2, 2013.
"China's Challenges—All DisQuiet on the Eastern Front?" "Advice to the President"; "China through the Ages"; "Legacies: My Family's Lessons for Life." Renaissance Weekend, Monterey, CA, June 30-July 4, 2012.
"From Shanghai Street to Wall Street: Demanding Accountability, Dignity, and Economic Justice." Workshop on Chinese Urban Political Culture in Comparative Perspective, Harvard-Yenching Institute, Harvard University, Cambridge, MA, May 4-5, 2012.
"Citizens vs. Experts: Historic Preservation in Globalizing Shanghai." Modern China Seminar, Columbia University, New York, NY, April 12, 2012.
"Housing Matters: Resident Protesters in Urban China." US-China Institute, University of Southern California, Los Angeles, CA, April 3, 2012.
"Chinese Capital in Motion: Reading Beijing Taxi." Symposium on Chinese Women's Documentaries in the Market Era, Brown University, Providence, RI, March 21, 2012.
"The New People in the People's Republic: Protesters in Housing Dispute in Urban China." Center for Chinese Studies, University of California, Los Angeles, CA, February 28, 2012.
"To Steal a House is a Casual Dish: Property Issue in Shanghai." Law School, Harvard University, Cambridge, MA, April 17, 2009.
"Protest as Alternative History in Housing Disputes in Shanghai." Fairbank Center for Chinese Studies, Harvard University, Cambridge, MA, November 29, 2007
Professional Positions and Activities (Select)
Global Scholar and Collaborator, Human Cities Initiative, Stanford University
Global Advisory Board, Human Dignity and Humiliation Studies (HumanDHS)
Editorial Board, Chinese Historical Review