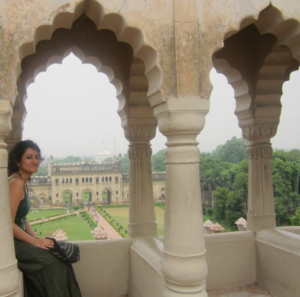 Satyasikha Chakraborty
Assistant Professor of History
South Asian History, British Empire, Gender and Sexuality, History of Colonialism, Medicine, and Visual Culture
Phone Number: 609-771-2796
Email: chakrabs@tcnj.edu
Office: Social Sciences 210
I am a historian of South Asia and the British Empire. I joined TCNJ with a PhD from Rutgers University – New Brunswick in 2019. Before moving to New Jersey, I lived in India, where I studied history at Jadavpur University in Kolkata.
My research looks at domestic labor in South Asia at the intersection of gender, caste and race. My book manuscript (based on my PhD dissertation) provides an intimate history of colonial South Asia from the eighteenth to the twentieth centuries through the figure of a South Asian maidservant – the ayah – who worked for British imperial families. I am also interested in the history of European governesses and nannies who worked in colonial Indian princely households. I collect old picture-postcards of the Indian ayah and the African American mammy to re-think inter-racial care-giving through visual culture in a trans-imperial and global framework.
At TCNJ, I teach courses such as "Modern South Asia: Mughals to Modi", "Beyond Ars Erotica: Gender and Sexuality in South Asian History", "Imperialism and Colonialism" and "Science, Medicine and Empire". I also teach the "Capstone Research Seminar" and I am especially interested in supervising student research on world history topics. I am excited to offer new courses in the coming years on "South Asia through Cinema", "World History from the Margins", "Indian Ocean World" and "Global History of Caste and Race".  
Peer-reviewed publications:
"'Nurses of Our Ocean Highways': The Precarious Metropolitan Lives of Colonial South Asian Ayahs", Journal of Women's History, 32, No.2, Summer 2020
"From Bibis to Ayahs: Sexual Labour, Domestic Labour, and the Moral Politics of Empire", in Nitin Sinha and Nitin Varma (eds.) Servants' Pasts: Eighteenth to Twentieth Century South Asia, New Delhi: Orient Blackswan, 2019
"Mammies, Ayahs, Baboes: Postcards of Racialized Nursemaids from the Early Twentieth Century", Visual Culture and Gender, Vol.13, September 2018.
"European nurses and governesses in Indian Princely households: 'Uplifting that impenetrable veil?'" Journal of Colonialism and Colonial History, Volume 19, No. 1, Spring 2018.  This article was awarded the 2019 Berkshire Conference Article Prize for the best history article of the year in the field of women, gender and/or sexuality.
Scholarly essays:
"Technologies of Domestic Labour", Servants Pasts: European Research Council Project, 2015-18, blog-essay published on October 16, 2017
"Visualizing the Firingee, the Saheb and the Memsaheb on Bengal Temple Terracotta: The Articulation of a 'Native Gaze'", Chitrolekha International Magazine on Art and Design, II, No.1, 2012, Special Issue on the Temples of Bengal.